The combination of innovation and digitization causes severe disruption to existing controls and regimes. New technologies have potential to disrupt if not evade traditional export control regimes and create significant challenges for businesses and regulators alike.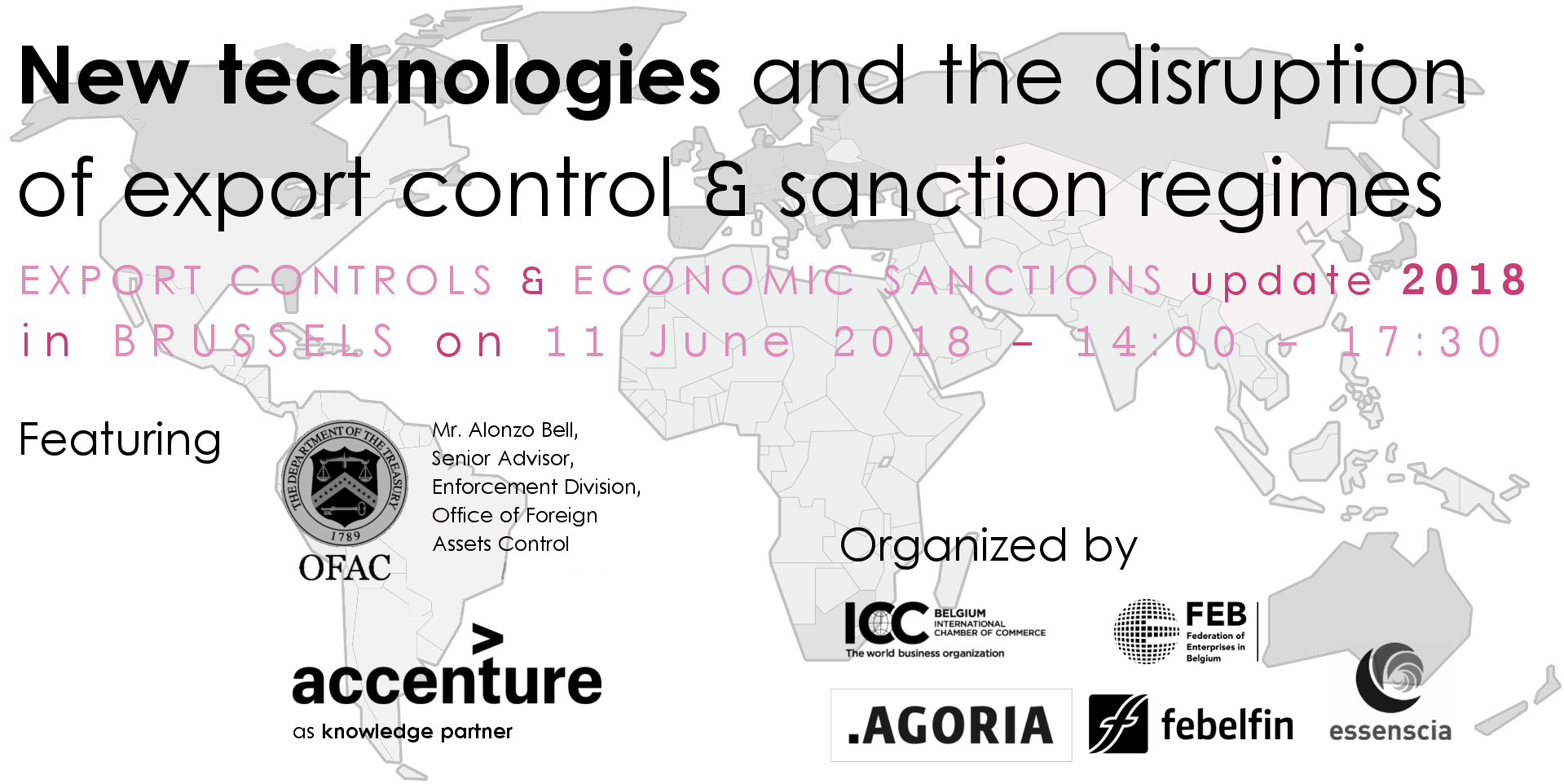 If you have cross-border operations through customers, third parties or even through your own employees, you may face unexpected export control risks by simply following innovative trends. This is likely to be the case when you use or provide a cloud computing service, when knowledge of your technically skilled employees is collected in a shared network or when '3D-printing' becomes part of your production process. It would be a mistake to think that the range of technological innovations and their far-reaching implications stop here.
Because of this, new technologies are playing such a central role in the ongoing discussions regarding the reform of the EU Dual Use Regulation 428/2009: we might see stricter controls on cyber-surveillance items but potentially a loosening of the controls on cryptography. What is to be expected from the regulatory changes and how can one prepare?
This seminar aims to identify the main innovative technologies and clarify their impact on existing export control management and related compliance requirements.
Target audience: trade compliance professionals, in-house company lawyers, CIO's, regulators…
Speakers:
Alonzo Bell, Senior Enforcement Officer, OFAC, US. Department of the Treasury
Sophie Delhoulle, Director of Legal Services, Trade Compliance, EMEA, Accenture Belgium & Luxembourg
Stephanie De Smedt, Lawyer, Loyens & Loeff, Brussels
Dirk Dujardin, Legal Director Global Accounts, Benelux/Complex Contracting, Accenture
Bert Gevers, Partner, Loyens & Loeff, Brussels
Tom Ghelen, Associate Director leading the development studio at Kunstmaan (part of Accenture Interactive)
Susan Kovarovics, Partner Bryan Cave Leighton Paisner, Washington, DC
Gerard Kreijen, Senior Associate, Loyens & Loeff, Amsterdam
Programme
14:30     Introduction by Olivier Joris, Executive Manager of the Competence center Europe & International, Federation of Enterprises in Belgium
14:35     What is new for export controls and sanctions in the EU and the US?
Presentation by Alonzo Bell, Senior Enforcement Officer, OFAC
15:05     The rise of new technologies and the export control challenges
New technologies unpacked: AI, Blockchain, Cloud computing, by Tom Ghelen, Associate Director leading the development studio at Kunstmaan (part of Accenture Interactive)
– Export control considerations
What is a "data export" in the EU and the US, by Susan Kovarovics, Partner Bryan Cave Leighton Paisner in Washington, DC and Bert Gevers, Partner Loyens & Loeff in Brussels
What data is controlled data in the EU (dual-use regulation) and US (ITAR, EAR) jurisdictions?, by Susan Kovarovics, Partner Bryan Cave Leighton Paisner in Washington, DC and Bert Gevers, Partner Loyens & Loeff in Brussels
Do new technologies challenge, or on the contrary enhance, export controls compliance?, by Sophie Delhoulle, Director of Legal Services, Trade Compliance, EMEA, Accenture Belgium & Luxembourg
Export control risks and liabilities in IT outsourcing contracts, by Dirk Dujardin, Legal Director Global Accounts, Benelux/Complex Contracting, Accenture & Sophie Delhoulle, Director of Legal Services, Trade Compliance, EMEA, Accenture Belgium & Luxembourg
– General security and privacy considerations, by Stephanie De Smedt, Lawyer, Loyens & Loeff
– Business cases and panel discussion between users, providers and legal
16:55     Concluding remarks
17:00     Networking reception
Practicalities
Timing : Monday, 11 June 2018, from 14.00 (doors open) till 17.30
Venue : FEB, Rue Ravenstein 4, 1000 Brussels, Belgium
Price :   
EUR 115,00 excl. VAT (21 %) for members of ICC Belgium or of a sector federation member of the FEB
EUR 130,00 excl. VAT (21 %) for non-members
Registration : online or by e-mail to Julie Deré: julie.dere@iccwbo.org
Latest posts by Bert Gevers
(see all)