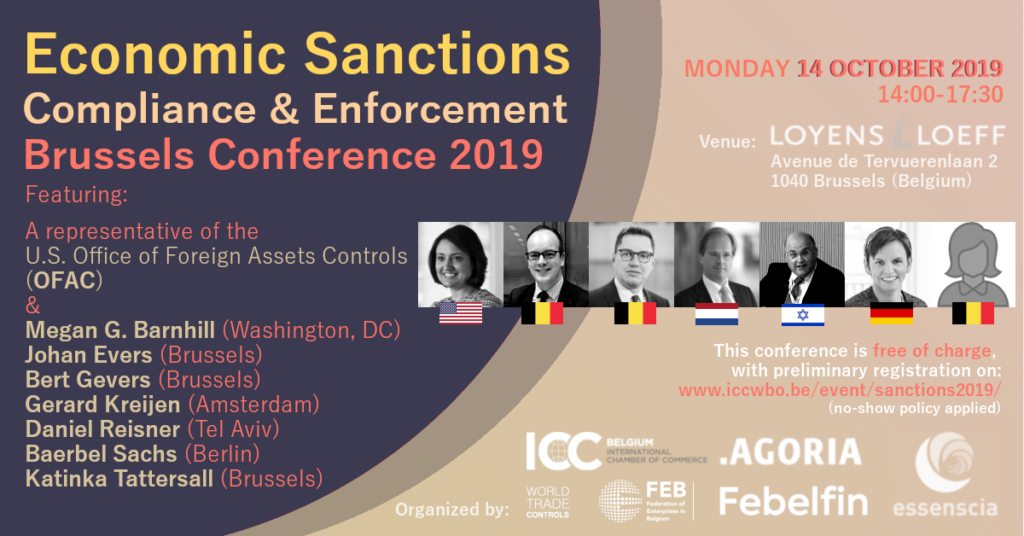 We are proud and happy to invite you for the 5th edition of the Brussels conference on Export Controls & Economic Sanctions (this year focusing on economic sanctions).
Over the years international sanctions and export controls have become an import factor on the global economic playing field urging businesses often to adapt their commercial strategy and priorities while implementing more robust compliance programs. With new guidance released in recent months from both OFAC (US Treasury), the EU Commission and national regulators exporters are now reviewing their compliance programs and sometimes go further and implement even stricter rules.
We are thus very honoured to have a representative from the US Treasury with us who will speak on the new guidelines and recent enforcement actions and who will participate in the discussion on pitfalls, trends and evolution with international experts from both sides of the Atlantic.
PROGRAMME
14:00-14:50
Practical pitfalls of compliance: Complexity of incorporating requirements of multiple jurisdictions; common compliance shortfalls and challenges (as noted in recent enforcement actions).
Presented by Megan Gajewski Barnhill (Washington, DC), Johan Evers (Brussels), Bert Gevers (Brussels), Gerard Kreijen (Amsterdam), Baerbel Sachs (Berlin)
14:50-15:40
Trends and Evolution: Civil societies, corporate social responsibility, ethical committees—how do these intersect with trade compliance.
Moderated by Bert Gevers, with Gerard Kreijen, Daniel Reisner (Tel Aviv), Megan A. Gajewski Barnhill, Katinka Tattersall (Legal Director, Regional Compliance, EMEA and Global Fair Competition at Johnson Controls International)
15:40-16:00
Coffee break
16:00-16:40
OFAC: New OFAC Compliance Framework for sanctions compliance programs and recent enforcement actions: key takeaways for industry.
Presented by a representative of US Treasury.
16:40-17:00
Q&A
PRACTICAL INFORMATION
When?
Monday 14 October 2019
14:00-17:30
Where?
LOYENS & LOEFF
Avenue de Tervuerenlaan 2
1040 Brussels
Price?
Free of charge
Language?
English
MORE INFORMATION:
Please contact
Julie Deré
+32 2 515 09 33
Julie.dere@iccwbo.be

Latest posts by Julie Deré
(see all)