Once you have decided to do a voluntary disclosure, timing of the submission is an important consideration. 
By Susan Kovarovics & Bert Gevers, 27 April 2017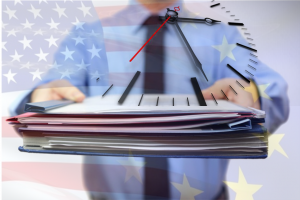 Under US export controls and trade sanctions regulations, the disclosure will count as a "voluntary disclosure" only to the extent that it is submitted to the relevant agency before the US government discovers the violation itself or has begun an investigation of the same or substantially similar matter.  Hence, it is important to consider not just whether to disclose, but when to do so.
Waiting until the entire investigation is complete may not be timely enough.  Some investigations can take many months and the risk of the government agency starting its own investigation may increase during that time.  Not to mention that if the matter at issue is particularly serious, notifying the relevant authorities sooner rather than later could enable them to mitigate some of the harm.
You likely do not want to disclose before you have a fairly high level of certainty that a violation did actually happen.  Let's face it—it is hard to "unring" the bell if you file a voluntary disclosure about a matter thinking that a violation had occurred, only to discover as your investigation proceeds that there was, in fact, proper authorization for the activities at issue or the facts about what had actually happened were mistaken.  If you have already filed a voluntary disclosure, you would then find yourself having to convince the enforcement agency that the disclosure was just an exercise of caution and the company's efforts to be a good corporate citizen, but, alas, there was no violation after all.  Sometimes that is not such an easy sell, particularly if the facts are complicated.
So finding the correct time in your investigation to disclose is critical.  Under the voluntary disclosure programs for export controls and trade sanctions, the relevant agencies permit parties to submit an initial notice of voluntary disclosure.  An initial notice of voluntary disclosure allows the party to inform the government that there is an issue prior to the party's full internal investigation being completed. Hence, giving the party the opportunity to do a full investigation, while not having to fear that the government could start its own investigation in the meantime and the party would lose the mitigation benefits of the voluntary disclosure.   Upon determining with enough certainty that a violation did occur, but before conducting your complete investigation, consider submitting an initial notice of voluntary disclosure.
Upon completion of your investigation, you are still obligated to file a full disclosure report with the agency involved.  Timing for submission of the full disclosure report varies based on the regulations:  60 days under the ITAR, 180 days under the EAR and within a "reasonable period of time" under the various US sanctions programs.
As mentioned in Part 1 of these series most EU Member States (including Belgium, Netherlands and Luxembourg) do not provide any procedural requirements or guidance with respect to voluntary disclosures. Nevertheless the principle remains that a voluntary disclosure (and its mitigating effect) is no longer 'voluntary' once the competent regulator and/or enforcement agency has initiated an investigation. It is therefore indeed best to file the preliminary disclosure only at the moment that an  investigation shows that it is likely that a violation has occurred. In practice a (potential) violation is often discovered at the time of a due diligence investigation in the framework of an M&A or financing transaction. Under those circumstances the company has no choice to disclose as soon as possible or abandon the transaction.
Once the preliminary disclosure has been filed one could generally agree on the timing to submit the full disclosure and even then extensions are generally accepted. If the disclosure includes multiple jurisdictions, it is advisable to foresee sufficient time to prepare a coherent disclosure and to align submission dates. You only get one chance to make a good impression….
---
Authors of this post are:
| | |
| --- | --- |
| Susan Kovarovics | Bert Gevers |

Susan Kovarovics is a partner in the International Trade group of Bryan Cave Leighton Paisner LLP. She counsels foreign and domestic parties regarding international business regulatory matters. Specifically, her practice focuses on providing practical legal advice that can be readily applied by in-house legal and business personnel in matters involving the International Traffic in Arms Regulations (ITAR), the Export Administration Regulations (EAR), sanctions administered by the Office of Foreign Assets Control (OFAC), U.S. anti-boycott laws, and the Foreign Corrupt Practices Act (FCPA).

Ms. Kovarovics designs and implements compliance programs and provides training sessions on export and defense trade controls, trade sanctions, customs, anti-corruption and anti-boycott matters. She also designs and leads internal audits and reviews to assess compliance in these areas.

Ms. Kovarovics assists clients with all aspects of the export license and agreement approvals processes at the Department of Commerce, State and Treasury. In addition, she guides clients through commodity jurisdictions and commodity classification requests for exports and ruling requests related to import matters. She also conducts due diligence reviews related to export controls, trade sanctions and anti-corruption matters.

Routinely, Ms. Kovarovics conducts internal investigations and advises clients on future actions based on results of investigations, including appropriate disciplinary and other corrective measures in response to violations of corporate policies and trade regulations. Moreover, she counsels clients on voluntary disclosure matters and represents clients in enforcement proceedings before federal authorities.

Susan's Bar Admissions include the states of Virginia and the District of Columbia in the U.S.

Education: Susan earned her law degree from Georgetown University, cum laude (1996) and her undergraduate degree from Drew University, summa cum laude (1993).

Latest posts by Susan Kovarovics (see all)