You just got that dreaded call.  Someone within the business just called to report that a shipment may have been made without all of the proper authorizations.  When you investigate more closely, you discover that the matter may involve US export controls and trade sanctions in addition to EU trade controls.  What do you do?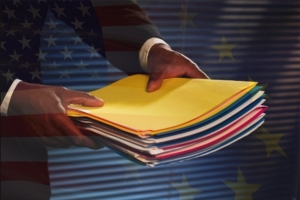 By Susan Kovarovics and Gerard Kreijen, 31 March 2017
Of course, you conduct an investigation to determine whether there is, in fact, a violation.  Assuming you determine there is a violation, the conversation often turns to whether to notify the relevant government authorities about the issue.
The US Perspective
US export controls and sanctions regulations (particularly the Export Administration Regulations ("EAR"), the International Traffic in Arms Regulations ("ITAR"), and the Foreign Assets Control Regulations) all set forth a process for parties to voluntarily disclose violations.  They also provide that a valid voluntary disclosure will generally be considered a mitigating factor in the agency's decision about whether to take administrative action to resolve a matter and, if so, what that action should be, including what amount any penalty should be.
Under some circumstances, a voluntary disclosure is essentially mandatory.  For instance, it is a violation of General Prohibition 10 of the EAR to order, buy, remove, conceal, store, use, sell, loan, dispose of, transfer, transport, finance, forward, or otherwise service an item if you know that it was exported, reexported or transferred in violation of the EAR.  So once you know that an item was reexported in violation of the EAR, you cannot service it or have it sent back to you for repair without first getting authorization from the Bureau of Industry and Security ("BIS") at the US Department of Commerce.  To do so, you need to submit a request to BIS and explain the circumstances of the violation, as well as what you are seeking permission to do with the item now.  To the extent that your entity was involved in the violation, it is strongly recommended that you submit a voluntary disclosure explaining the circumstances either before or at the same time that you submit the request for waiver of General Prohibition 10.  Otherwise, BIS is likely to begin an investigation on its own, and your entity will lose the benefit of a voluntary disclosure.
In addition, Section 126.1(e) of the ITAR has a mandatory notification requirement to the Directorate of Defense Trade Controls at the US Department of State if you know or have reason to know about "a proposed, final, or actual sale, export, transfer, reexport, or retransfer of [defense] articles, [defense] services, or data to any country identified in Section 126.1 of the ITAR.
If you need to ask the US party that supplied the goods or technology involved in the violation to you to amend the export authorization pursuant to which you received such items, or to obtain a new authorization, (or if you need to seek reexport authorization) in order to pursue additional activities involving such items going forward, then a disclosure is likely warranted.  Section 127.2 of the ITAR indicates that it is a violation of the ITAR to omit or conceal material information from a license application.  Section 764.2(g) of the EAR takes the same position.  Not including information to indicate that some technology or thirty export-controlled widgets were previously provided to the same party without a license, for instance, would likely be considered material information by the relevant licensing agency.  Thus, in such a situation, it would be highly advisable to submit a voluntary disclosure before submitting the license application, so the agency is already aware of what the party has received before being asked to decide on the new authorization request.
If the above circumstances do not apply, then it really may be your choice whether to submit a voluntary disclosure or not.  Many other factors may contribute to your decision.  What does your company policy say?  How serious was the matter?  Are there other parties involved who are planning to submit a voluntary disclosure?  Keep in mind, though, that the US regulators have a strong preference in favor of voluntary disclosures.  Voluntary disclosures are given great weight in most agencies' decisions about how to resolve a matter.
In the event that you decide not to voluntarily disclose, be sure to document your internal investigation process and the results and document the corrective actions that were taken to mitigate the risk of the same or similar issues occurring again in the future.  That way if questions are raised in the future about the matter, the information will be readily available and you can explain what occurred and how it was addressed.
The EU Perspective
In the context of EU trade controls, you will find that there is much less statutory guidance, if any at all, when it comes to deciding the issue whether or not to notify the competent authorities about the discovery of a violation. Contrary to the situation in the US, EU sanctions and export control regulations generally do not set forth any process for parties – whether mandatory or not – to disclose violations. Neither do the EU regulations provide for the mitigating effects of a voluntary disclosure or the kind of administrative action that it may initiate.
In the EU the Member States are primarily responsible for the implementation and enforcement of sanctions and export control regulations. The relevant EU regulations merely require EU Member States to lay down the 'rules and penalties' that apply to violations and take the 'necessary measures' to ensure their implementation. The penalties as such must be 'effective, proportionate, and dissuasive'. Accordingly, the Member States enjoy relative discretion in this respect. This being so, it should not come as a surprise that there is no common EU denominator with respect to voluntary disclosure and the mitigating effect that it may entail.
Therefore, when requiring an answer to the question whether or not to disclose, the first thing you should do is to obtain an understanding of the voluntary disclosure policy of the relevant Member State. As this policy will often not be formally published you may need to involve qualified local counsel to have it clarified.
Nonetheless, it would be mistaken to think that the EU context does not provide you at least with some basic guidance concerning voluntary disclosure. As a rule, the competent authorities of the EU Member States, like those of the US, will attribute considerable weight to a voluntary disclosure when deciding how to deal with a violation. Given the general absence of statutory and procedural requirements however, the competent Member State authorities in principle are in a better position to apply flexibility than their US counterparts.
A voluntary disclosure to the competent authorities of an EU Member State may significantly mitigate risk and scale of potential penalties. Again, failing the necessary statutory underpinnings there is no guarantee that voluntary disclosure of a violation will not result in a penalty. But generally, it will make the formal determination of a violation and, if a violation should be determined to exist, the imposition of a penalty, less likely.
As far as the Netherlands are concerned (Belgian and Luxembourg practice being somewhat similar) when a violation has occurred and you report to the competent authorities, they may in fact be quite considerate. Of course, they will treat each instance on its merits and may decide to impose a substantial penalty in serious cases. You may find however, that in the Netherlands a voluntary disclosure will typically result in a settlement and/or official warning with no financial penalties provided that:
the party that is in violation is a first-time offender;
the disclosure provides all relevant information regarding the items or activities that required authorization;
authorization would have been granted had it been properly applied for; and
the activities in question or the destination or end-use of the items are not subject to sanctions
In general, if you discover that you have violated EU sanctions or export controls it is recommended to seriously consider – taking into account all relevant factors, including the relevant Member State's enforcement policies – making a voluntary disclosure.
---
Authors of this post are:
| | |
| --- | --- |
| Susan Kovarovics | Gerard Kreijen |

Latest posts by Susan Kovarovics
(see all)